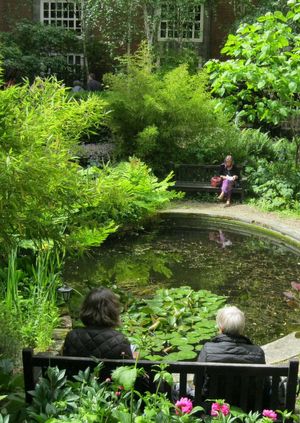 London Square Open Gardens Weekend 2022
11th - 12th Jun 2022
Add to Calendar
Tickets
Booking Refund
Insurance
Event Details
Feed your curiosity and explore London's private, secret and little-known gardens across the city over one very special weekend. 
Gardens range from the historic and  traditional to the new and experimental, and include private gardens, roof gardens, community allotments, gardens belonging to historic buildings, institutions, cafes, schools and shops. 
A weekend ticket gives access to gardens (excluding balloted-entry gardens) on both Saturday 11 and Sunday 12 June 2022. There is an option when booking tickets this year for you to add personal insurance, covering the cost of your ticket (less booking fee) should the event be cancelled. Garden opening times and days may vary. Whilst we hope to open all of the gardens, some may not be able to open at the last minute due to unforeseen circumstances.This year our guidebook will be available online only, in a downloadable PDF format which can be printed at home.
FREE tickets are available for children (11 years and under) and for those people requiring Companions. FREE tickets must be booked online, in advance and are only valid for entry with an accompanying adult ticket holder.
Provided there is a surplus, a portion of each ticket price is returned to some of the community and volunteer run gardens that participate in the event.
Please refer to What's on LSOG 2022 for  further event details, including individual garden opening times and access facilities.  


FAQ's – LONDON SQUARE OPEN GARDENS WEEKEND
My transaction was declined/unsuccessful.
Please ensure your card and billing address details are entered correctly. Please also ensure that you have added your postcode in the payment section. Postcode errors are usually located on payment screen entries, next to the CVC section. A postcode box will appear once the long card number has been entered. This must be completed to verify any online payment. If you are still encountering problems, please click contact us at support@eventcube.io
What can I expect to receive after I purchase my ticket?
After purchasing your ticket through Eventcube, you will receive a confirmation email. If you book your tickets before midnight on 23rd May 2022, your ticket will be posted to your home address (UK addresses only). If you book after this date, you will need to print your ticket at home or show your digital ticket or proof of purchase when you enter the gardens.*
* This is a change to previously advertised ticket information about wristbands.